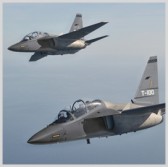 Officials from Raytheon and Leonardo-Finmeccanica held a meeting on Oct. 14 after the companies faced issues on who should lead their joint effort to pursue the U.S. Air Force's T-X trainer aircraft program, Defense News reported Friday.
Tom Kington and Valerie Insinna wrote Raytheon and Leonardo-Finmeccanica have revisited plans to offer the latter company's T-100 jet trainers for the T-X program that seeks to replace the Air Force's fleet of T-38 aircraft.
The report stated the companies faced challenges with the work share as well as differences in business and defense acquisition cultures.
T-X program competitors include Northrop Grumman; a team of Lockheed Martin and Korea Aerospace Industries; and a partnership of Boeing and Saab.