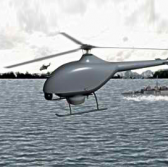 DCNS and Airbus Group's helicopter business unit have partnered to design a vertical take off and landing drone system for France's navy.
Airbus said Thursday DCNS will design and develop components for the ship-based operation and integration of the VSR700 drone such as payload specification and validation as well as mission data links.
DCNS will also build the drone's mission system which will work to provide real-time operations management and support payload control through a combat management system, Airbus added.
Airbus will design and develop VSR700 as well as various technologies for aerial missions such as data liaison, payload and a "see and avoid" function to support the drone's integration into airspace.
Airbus Helicopters CEO Guillaume Faury said the partnership aims to combine Airbus' experience in vertical flight and autonomous flight technologies with DCNS' skills in naval combat systems.
VSR700 is based on the Helicopteres Guimbal-built Cabri G2 light civil helicopter.