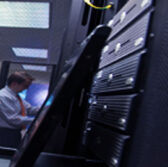 The U.S. Army has awarded Cray and Silicon Graphics International's federal business contract modifications worth $26.6 million each to support the Defense Department's high-performance computing modernization program.
DoD said Wednesday Cray and SGI Federal will provide HPCÂ systems as well as administration and maintenance services.
Work will occur through Apr. 24, 2021 in Aberdeen Proving Ground, Maryland for SGI Federal and in Vicksburg, Mississippi for Cray.
The Army Corps of Engineers will obligate full modification amounts from the military branch's fiscal 2016 "other" procurement funds.