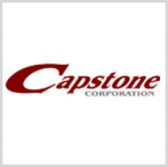 Capstone has secured a prime contract to support a U.S. Army-run laboratory that conducts wargames and experiments through constructive and live experiment environments for the military branch.
The company said Wednesday it aims to help the Army Combined Arms Support Command's Sustainment Battle Lab to examine Doctrine, Organizations, Training, Leader Development, Materiel, Personnel and Facilities changes to current and future concepts, organizations and systems.
The company added it will also support the lab's efforts to monitor science and technology research initiatives as well as recommend integration methods for the modular force.
John McNally, Capstone senior vice president of growth, said the company will work to deliver technical support to the CASCOM Sustainment Battle Lab for the Army and build on Capstone's history of supporting Defense Department concept development and experimentation efforts.