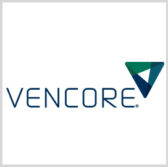 A Vencore subsidiary has secured a $5 million contract to develop a new radio-frequency mapping software under phase three of the Defense Advanced Research Projects Agency's Advanced Radio Frequency Mapping program.
Vencore Labs will act as a subcontractor for Lockheed Martin to create new platforms to help the Defense Department provide battlefield situational awareness of RF spectrum usage, Vencore said Wednesday.
"This third phase includes plans for testing RadioMap on RF-capable equipment that is typical in current forward-deployed environments, along with a field test and demonstration," said Petros Mouchtaris, Vencore Labs president.
He said the company will also continue efforts to mature its technology developed under phase one and two of the project.
Phase three of the program will cover the development of a management system to monitor task status and radio position and support for third-party development of the system for future RF devices.
Vencore Labs said it will also provide software designed to support distributed command and control, RadioMap task management and C2 software agents for RadioMap tasks on RF platforms.
RadioMap works to provide RF information without the need for additional radio equipment or interference of existing equipment.
The program also seeks to develop systems that puts spectrum information as a visual overlay on a map to support communications and intelligence, surveillance and reconnaissance systems.
Vencore noted that the Air Force Research Laboratory and other U.S. military departments support the program with plans of transitioning the technology for operational use.