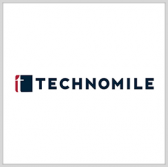 TechnoMile has introduced a set of cloud-based applications designed to help government contractors track contracts and task orders, collaborate with government agencies and collect data on agency spending.
The GovCon Suite is built on Salesforce's App Cloud platform and works to help federal contractors manage and integrate intelligence data, contracts and capture processes, TechnoMile said Friday.
TechnoMile's GovCon Suite of applications is available on Salesforce's AppExchange, an online marketplace for cloud, mobile, social and other enterprise IT apps.
Ashish Khot, CEO of TechnoMile, said the GovCon Suite seeks to help agency contractors manage correspondence, automate processes as well as facilitate collaboration and delivery of services to government clients.
The GovCon Suite is composed of several cloud apps such as FedIntel, FedProgram, FedCapture, FedTOM and FedCLM.
FedIntel works to help GovCon firms analyze agency spending trends and contract competition, while FedCLM aims to help GovCon companies perform contract lifecycle management and comply with Defense Contract Audit Agency and Defense Contract Management Agency reporting requirements.