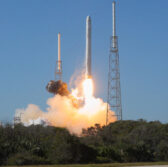 SpaceX"™s Falcon 9 rocket exploded at Cape Canaveral Air Force Station in Florida prior to the rocket"™s static fire test, Space News reported Thursday.
Brian Berger and Jeff Foust write the explosion early Thursday destroyed the rocket"™s communications satellite payload Amos-6, built as part of Facebook"™s plan to beam Internet access to remote areas in sub-Saharan Africa through the satellite"™s Ka-band capacity.
Officials said the incident occurred at Space Launch Complex 40, where SpaceX plans to briefly fire the rocket"™s first stage as part of pre-launch procedure for Falcon 9 missions, according to the report.
SpaceX CEO Elon Musk said in a Twitter post following the explosion around the Falcon 9"™s upper stage liquid oxygen tank that the cause of the incident remains unknown, Space News reports.