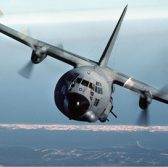 A Rolls-Royce subsidiary has won a potential one-year, $9.3 million contract from the U.S. Special Operations Command to install infrared suppression platforms on SOCOM's fleet of AC-130W Stinger II aircraft.
SOCOM received two bids for the firm-fixed-price contract and will obligate the full contract amount at the time of award, the Defense Department said Monday.
Rolls-Royce North American Technologies will perform work at Cannon Air Force Base in New Mexico through November 2017, according to DoD.
The Lockheed Martin-built AC-130W Stinger IIÂ aircraft works to perform aerial interdiction and close air support missions.
The plane has four Allison T56-A-15 turboprop engines and is designed to fly at an altitude of up to 28,000 feet.
Rolls-Royce operates with more than 9,000 employees across North America and provides engineering and manufacturing support to engine component producers as well as diesel engine and gas turbine manufacturers in the region.