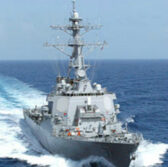 A General Dynamics subsidiary has won a potential one-year, $21 million contract to provide maintenance, modification and repair services for the U.S. Navy's USS Gonzalez (DDG-66) as part of the Arleigh Burke-class destroyer's fiscal 2017 restricted dry-docking availability.
The Naval Sea Systems Command awarded the firm-fixed-price contract to General Dynamics NASSCO-Norfolk through a competitive procurement process with two bids received, the Defense Department said Tuesday.
The delivery-incentive contract also covers the provision of facilities and human resources support and could reach a total value of $48.3 million if options are exercised.
Work will occur at the company's facility in Norfolk, Virginia, through September 2017, according to DoD.
DoD said the service branch will obligate the full contract amount from fiscal 2016 "other" procurement and operations and maintenance funds at the time of award.