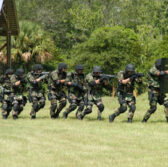 Meggitt's training systems business unit has achieved "program of record" designation from the U.S. Army for the company's small-arms trainer system.
Meggitt said Tuesday its Engagement Skills Trainer II system has completed system verification and site operational tests that show the company has met requirements of the Army's program executive office for simulation, training and instrumentation.
"This summer, Meggitt will commence delivery of the first EST II systems, which are fully compatible with the Army's existing arsenal of simulated weapons and current training doctrine," said Jeff Murphy, president of Meggitt Training Systems.
The certification authorizes Meggitt to deliver the EST II system to active U.S. Army, Army National Guard and Army Reserve forces around the world, Meggitt said.
The company added it will deliver more than 890 EST II units over the next 18 months to help train soldiers in marksmanship as well as collective and judgmental video scenarios under the terms of a $99 million contract that Meggitt secured in 2014.
The trainer system's architecture works to facilitate 3-D marksmanship on a wireless tablet with an intelligent automatic coaching application and is designed to accommodate integration of Meggitt and third-party training modules.
Meggitt Training Systems supplies integrated live-fire and virtual weapons training systems to armed forces, law enforcement and security organizations.