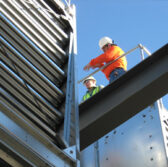 The General Services Administration and Energy Department have started to seek information on potential industry sources that can provide building technology platforms designed to build up the environmental and economic performance of federal and commercial facilities.
Both agencies will evaluate potential building technologies through measurement and verification performance studies as part of the Green Proving Ground and High Impact Technology Catalyst initiatives, GSA said Monday.
GSA's GPG program aims to assess pre-commercial sustainable building platforms in federally owned facilities in collaboration with third-party evaluators as well as offer recommendations to facilitate deployment of such technologies.
DOE's HIT Catalyst initiative seeks to facilitate the evaluation of technologies in commercial buildings in an effort to support the implementation of underutilized building technology platforms.
DOE and GSA want information on technologies in the areas of water conservation and reuse, smart energy analytics, fans and blowers, cold climate heat pumps as well as chillers, refrigerants, and substitutes to vapor compressor heating, ventilation and air conditioning systems.
Responses to the RFI are due Nov. 18, according to a FedBizOpps notice posted Monday.