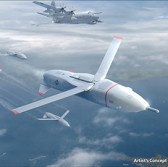 General Atomics has rolled out a mechanical arm for the Defense Advanced Research Projects Agency's Gremlins program in search of a launch-and-recovery system for unmanned aerial systems in-flight, Breaking Defense reported Monday.
Sydney Freedberg writes General Atomics built the system catch drones in the air and haul collected units into the back of a cargo aircraft.
Chris Pehrson, General Atomics vice president for strategic development, told Breaking Defense the company has also developed an alternate recovery system mounted under an aircraft's wing that reels out a cable, on which the drones will latch on to for recovery.
DARPA awarded a series of Phase 1 Gremlins program contracts in April to General Atomics and three other companies: Composite Engineering, Dynetics and Lockheed Martin.