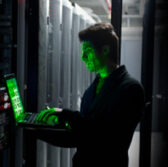 DLT Solutions and Centrify have forged a partnership to introduce a multi-factor authentication platform that aims to help government agencies protect their information infrastructure and applications from data breaches and other cyber threats.
Jeremy Young, vice president of cybersecurity division at DLT, said in a statement released Wednesday the company will combine its more than two decades' experience in the public sector with the Centrify Identity Platform designed to reduce risks of data breaches linked to compromised credentials.
The platform consists of Centrify Privilege Service, Centrify Server Suite and Centrify Identity Service and works to protect enterprises' privileged accounts as well as external and internal users from network vulnerabilities.
Greg Cranley, director of federal and public sector sales at Centrify, said the company's partnership with DLT will work to bring the Centrify Identity Platform to federal, local and state government agencies in an effort to address identity management challenges in the public sector.