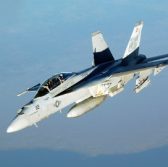 Honeywell International has received a potential three-year, $18.3 million delivery order from the Defense Logistics Agency to supply brakes for the U.S. Navy's fleet of F/A-18 Super Hornet aircraft.
DLA's aviation unit will fund the delivery order with the service branch"™s fiscal 2016 working capital funds, the Defense Department said Tuesday.
Honeywell will perform work in Indiana through June 30, 2019, according to DoD.
F/A-18 Super Hornet, manufactured by Boeing, is a multirole, twin-engine fighter jet designed to take off and land on an aircraft carrier and equipped with weapons pods, conformal fuel tanks and a cockpit system that works to provide situational awareness functionality to pilots.