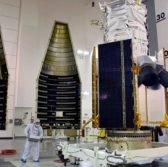 Lockheed Martin is scheduled to launch the WorldView-4 imaging satellite for DigitalGlobe Friday onboard a United Launch Alliance-built Atlas V rocket.
WorldView-4 will lift off from the Space Launch Complex 3 East at Vandenberg Air Force Base in California to a sun-synchronous orbit, where the satellite will begin to capture images of the Earth, Lockheed said Tuesday.
The satellite is built to operate in conjunction with WorldView-3 in space through the use of DigitalGlobe's constellation scheduling system to expand the company's 30-centimeter commercial satellite imagery coverage of the world.
Lockheed designed WorldView-4 to orbit the Earth every 90 minutes and capture up 262,549.5 square miles of the Earth's surface each day.
The mission will also carry seven U.S. government-owned CubeSats that will be deployed following the WorldView-4 satellite's separation.