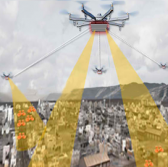 The Defense Advanced Research Projects Agency has asked industry to submit research proposals for a program that aims to develop a network of airborne sensors that will work to perform wide-area surveillance of small unmanned aircraft systems in urban areas.
DARPA posted on FedBizOpps the broad agency announcement for the Aerial Dragnet program that seeks to detect and track small drones that operate below 1,000 feet in urban settings, the agency said Tuesday.
"Commercial websites currently exist that display in real time the tracks of relatively high and fast aircraft… all overlaid on geographical maps as they fly around the country and the world," said Jeff Krolik, DARPA program manager.
"We want a similar capability for identifying and tracking slower, low-flying unmanned aerial systems, particularly in urban environments."
The Aerial Dragnet program seeks to develop a common operational picture of the low-altitude airspace through the development of signal processing algorithms for use in non-line-of-sight detection and classification of small UAS; sensor subsystems; and a networked multiplatform framework designed to produce and generate a COP to ground forces.
The agency said it will accept research proposals for the program through Nov. 12 and host a Proposers Day on Sept. 26 in Arlington, Virginia.