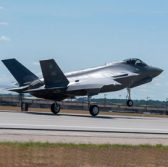 Cobham has received a multimillion dollar order to manufacture radio frequency microelectronics for the Lockheed Martin-built F-35 fighter aircraft.
Cobham said Monday its microelectronic solutions division will produce the RF components at a company facility in San Diego, California.
Jill Kale, president of Cobham's advanced electronic solutions business, said the company's microelectronic components and assemblies are designed to increase the sensitivity of aircraft electronic warfare and radar systems.
F-35s are equipped with various Cobham-made technologies such as microwave and motion control systems, communications chips, pilot survival tools and aerial refueling equipment.