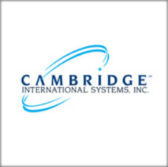 Cambridge International Systems will extend its operations and maintenance services for the Defense Information Systems Agency's Puerto Rico Area Wideband Systems integrated network under a subcontract from Global Asset Technologies.
The company said Tuesday it will work to sustain PRAWS as the system delivers DISA network services across Puerto Rico, St. Croix, St. Thomas and the U.S. Virgin Islands.
PRAWS is designed to deliver internet protocol services and digital switched voice, video teleconferencing and data services to Defense Department and Department of Homeland Security users and clients such as the U.S. Army, U.S. Navy, U.S. Coast Guard, Air National Guard and the Federal Aviation Administration.
"We recognize that the transmission and telecommunications capabilities the PRAWS network provides in Puerto Rico and the U.S. Virgin Islands are critical to the successful execution of many mission across all branches of our armed services," said John Washburn, DISA programs director at Cambridge.
The company noted DISA network services assist federal operations such as customs and border patrol as well as commercial and military aviation coordination.
Cambridge's team of on-island communications technicians and personnel support microwave and terrestrial government communication networks throughout the Caribbean Basin region.