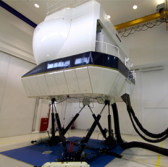 Indonesia's air force has received a CAE-built C-130H full-mission simulator previously in-service with Australia's air force as part of a government-to-government agreement signed years ago.
CAE said Wednesday that Indonesia bought nine used C-130 Hercules transport planes along with the flight simulator and five of the airlifters were delivered by an Airbus Group subsidiary as the prime contractor for the aircraft resale.
Airbus Group's Australia Pacific business subcontracted CAE to relocate the C-130H simulator and supply a training facility that will house the unit located at an extension of the Tentara Nasional Indonesia-Angatan Udara C-130 training facility.
Peter Redman, vice president and general manager of the CAE's defense and security business in the Asia Pacific, said the company has maintained and serviced the simulator since its entry to Australia's air force more than 15 years ago and intends for the simulator to address training requirements of Indonesia's Hercules pilots.
The C-130 aircraft, manufactured by Lockheed Martin, is designed to transport military personnel and equipment into hostile areas.