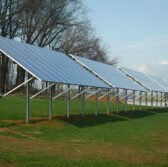 The Energy Department has awarded Rochester, Minnesota-based consortium Broker Exchange Network $700,000 in funds to help launch an online marketplace startup intended for companies in the solar industry.
Broker Exchange Network will use the funds to further develop the EnergyBin site in an effort to facilitate the sale and procurement of solar components and replacement parts for commercial and residential solar projects, EnergyBin said Wednesday.
DOE made the award through its SunShot Initiative that aims to advance the adoption of solar energy.
Keith Bluford, senior vice president of business development at EnergyBin, said EnergyBin will serve as a "brokerage platform to expand into the solar arena and bring companies who need solar products and components together with companies who want to sell."
EnergyBin is an independent startup of Broker Energy Network and a business-to-business, member-only website that works to provide market intelligence and renewable components to the renewable energy sector.