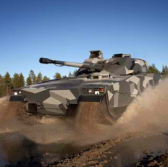 BAE Systems will debut a new infantry fighting vehicle offered in partnership with Patria for the LAND 400 Phase 3 program at the Land Forces 2016 event in Australia.
BAE Systems said Tuesday the CV90 family of tracked combat vehicles has supported worldwide UN and NATO operations and provides tactical and strategic mobility, air defense, anti-tank capacity and lethality in all terrains or tactical environments.
CV90 comes in nine different variants to support multiple roles including the CV9035 model that is equipped with an E35 turret similar to what the AMV35 has offered for Phase 2 of the program, the company noted.
BAE added more than 1,280 vehicles have been sold to seven European nations including four NATO members and the latest variant under production for Norway.