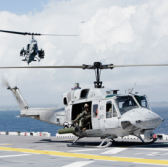 The Department of the Air Force has posted a request for information in search of industry feedback and comment on the service branch's plan to replace its current UH-1N Huey fleet with an off-the-shelf helicopter.
A FedBizOpps notice issued Friday says the Air Force intends to procure up to 84 new helicopters of the same configuration as the UH-1N Huey and kick off the acquisition lifecycle at Milestone C.
The Air Force plans to award a contract in early fiscal year 2018 and wants to receive the first deliveries no later than 12 months after the award.
Submissions to the request for comments will close on Sept 26.
The Air Force Life Cycle Management Center also plans to hold the second round of UH-1N Replacement Program Industry Day on Sept. 27 and 28 at the Wright Patterson Air Force Base in Ohio.