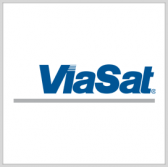 ViaSat has received National Security Agency certification for two encryption platforms the company designed to secure communications networks.
The broadband services and technology provider said Wednesday its NSA-certified KG-250XS and IPS-250X encryptors are now available for purchase by government agencies.
Jerry Goodwin, chief operating officer of the government systems division at ViaSat, said the certification supports the company's efforts to grow its cyber defense portfolio for military customers.
The KG-250XS encryptor is designed to operate at a speed of 20 megabits per second and manage Top Secret or Sensitive Compartmented Information from applications such as telecommuting, flyaway kits, executive communications and unmanned aerial vehicles.
ViaSat developed the IPS-250X encryptor to protect transmission of classified information up to the Secret level as well as protect internet protocol connections between warfighters, coalition partners and government agencies.