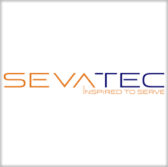 Sevatec has opened a new office in Crystal City in Arlington County, Virginia, in an effort to deliver information technology services to Department of Homeland Security operational and support components.
The new office's project delivery teams support the U.S. Citizenship and Immigration Services Joint Engineering Teams-Sustainment contract and the Immigration and Customs Enforcement's Student Exchange and Visitor Program contract for optional practical training portal support services contract, the company said Thursday.
Sevatec noted it selected the location of the new 22,000-square-foot office for its proximity to the DHS agencies.
Dan Muse, Sevatec's chief financial officer, said the launch of the new office is in line with the company's growth strategy.
He added that Sevatec will continue to support DHS as well as provide opportunities to collaborate further with customers.
Sevatec has delivered IT services for national security in support of DHS and its component agencies since 2008.
The Crystal City office is its third facility alongside existing offices in Washington, D.C., and Fairfax, Virginia.