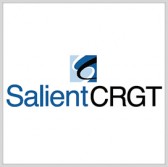 Salient CRGT has received a capability maturity model integration for development level 3 appraisal from Carnegie Mellon University's CMMI Institute.
The appraisal indicates the software development company works to continuously improve its business processes and performance, Salient CRGT said Wednesday.
Salient CRGT CEO Brad Antle said the company follows CMMI principles in efforts to manage customer service and increase organizational efficiency.
A quality team began the appraisal process in March, six months after Salient Federal and CRGT merged operations to form Salient CRGT.
The CMMI appraisal marks the first such evaluation to be completed since the merger, the company noted.