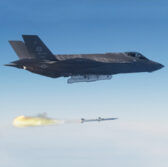 Raytheon has worked with the U.S. Air Force and U.S. Navy to test-fire three short-range, air-to-air missiles launched from an F-35A aircraft that resulted in direct hits against airborne targets.
Raytheon said Wednesday the tests were conducted to assess the AIM-9X Block I Sidewinder's end-to-end system, which includes loading, in-flight carriage and guidance, launch initiation, separation, impact/proximity fuzing and target acquisition functions.
"These tests validated the onboard communications and handoffs between the aircraft and the missile required to prosecute an aerial target," said Mark Justus, AIM-9X program director at Raytheon's missile systems business.
The company noted that AIM-9X is the first short-range, air-to-air missile used with the Lockheed Martin-built F-35, which can accommodate two AIM-9X missiles on its wings and four AIM-120s in an internal bay.
Raytheon plans to hold the fourth guided test on the AIM-9X missile before the end of 2016, with the missile's integration into the F-35 fleet integration scheduled in 2017.