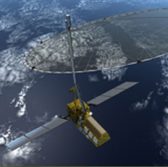 Northrop Grumman's Astro Aerospace subsidiary has completed the preliminary design review of a radar antenna reflector technology the business developed for a joint satellite project between NASA and the Indian Space Research Organization.
Northrop said Tuesday the AstroMesh reflector will be integrated onto the NASA-ISRO Synthetic Aperture Radar satellite that will operate at L-band and S-band frequencies to offer scientists a detailed view of Earth.
The company added Astro Aerospace is now ready to proceed with the detailed design and fabrication phase of the AstroMesh initiative.
NISAR is designed to observe Earth's ecosystem distrubances, ice-sheet dynamics and natural hazards such as earthquakes, tsunamis, volcanic eruptions and landslides as well as the planet's other complex processes.
Northrop noted the satellite, which is scheduled for launch in 2021, will work to help researchers study the crust and evolution of Earth.
The NISAR project follows the deployment and spin up of the Jet Propulsion Laboratory's Soil Moisture Active Passive satellite in 2015.