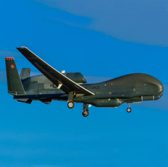 The U.S. Air Force has awarded a contract to Northrop Grumman for modernization work on a ground segment the service branch uses to control Global Hawk autonomous unmanned aircraft systems.
Northrop said Monday the work will include a modular and scalable cockpit architecture, as well as an updated command and control capacity across all missions and sensors.
"Global Hawk continues to provide around-the-clock critical intelligence, surveillance and reconnaissance information to our warfighters," said Mick Jaggers, Northrop vice president and program manager of the Global Hawk program.
The company noted the systems will feature open mission system compliant hardware as well as cybersecurity systems designed to comply with current and future warfighter requirements to replace legacy hardware at Beale Air Force Base and Grand Forks Air Force Base.
Northrop also announced Monday it awarded a potential $104 million subcontract to Raytheon to help update Global Hawk ground controls.