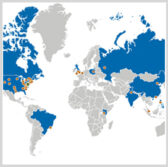 McMurdo Inc. has received a potential five-year, $3 million contract from the U.S. Coast Guard to provide 16,000 FastFind 220 personal locator beacons for crews to use during emergencies.
FastFind 220 works to notify emergency personnel during a land, air or water emergency through the 406-megahertz frequency to send a distress signal that contains beacon identification information and location data, McMurdo said Tuesday.
The signal passes through the international search and rescue satellite system operated by Cospas-Sarsat before it reaches regional search and rescue authorities.
"We are honored to provide a solution that enhances the safety of crew members who risk their lives daily," said Mark Cianciolo, general manager of aerospace, defense and government programs at McMurdo.
The indefinite-delivery/indefinite-quantity contract contains one base year and four one-year options.
McMurdo is a part of Orolia Group and also provides satellite connectivity, mission control and rescue coordination center systems and rescue response communications products.