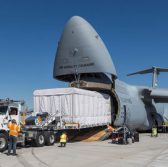 Lockheed Martin has transported the National Oceanic and Atmospheric Administration's Geostationary weather satellite aboard a U.S. Air Force C-5M Super Galaxy cargo transport plane to the Astrotech Space Operations facility in Florida.
Lockheed said Tuesday the first of four Geostationary Operational Environmental Satellite R-Series weather satellites are designed to help forecasters collect and analyze data on weather conditions across North America.
"Our team understands the important mission of this national asset, and delivering it to the launch site moves it one step closer to providing an upgraded capability for NOAA and our nation," said Tim Gasparrini, vice president and GOES-R Series program manager at Lockheed's space systems business unit.
The company noted GOES-R data will help support short-term weather prediction, storm warnings, maritime forecasts, seasonal predictions, drought outlooks and space weather predictions as well as hurricane tracking and intensity forecasts and thunderstorm and tornado warnings.
Lockheed designed, built and tested the satellite along with the Solar Ultraviolet Imager and Geostationary Lightning Mapper instruments that will launch aboard a United Launch Alliance Atlas VÂ rocket.