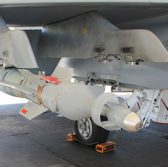 Lockheed Martin has completed a demonstration of the new linear optics, guidance system and control actuation system of its Dual Mode Plus laser-guided bomb during two flight tests held at the Naval Air Warfare Center Weapons Division in California.
The tests featured two Mk-82 inert warheads that were released from an F/A-18 Super Hornet aircraft to engage fixed targets, the company said Monday.
Lockheed added the warheads were equipped with Dual Mode Plus guidance kits.
Joe Serra, director for precision guided systems at Lockheed's missiles and fire control segment, said Dual Mode Plus builds on the Paveway II Plus LGB system with an all-weather moving-target function.
Dual Mode Plus works to support integration with aircraft carrying Paveway II LGBs and others with MIL-STD-1760/1553 or Universal Armament Interfaces and provide precision strike support at extended standoff ranges regardless of weather conditions.