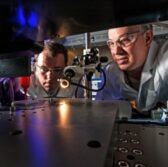 Inventor David Findley has received a patent from the U.S. Patent and Trademark Office for a three-dimensional printing method that works to produce a diamond object through the use of a pre-ceramic polymer with a nanoparticle filler.
USPTO said Lockheed Martin serves as the patent"™s assignee.
The method involves the placement of alternating layers of a pre-ceramic polymer and ceramic powder in a solvent and formation of the desired 3D diamond object by heating the deposited pre-ceramic polymer and ceramic powder between 212 degrees and 1472 degrees Fahrenheit.
According to the document, a poly(methylsilyne) or poly(hydridocarbyne) may be used as a pre-ceramic polymer in the 3D printing method, while the ceramic powder may be composed of one or several elements such as silicon carbide powder, detonation nanodiamond powder and graphene nanoplatelet powder.
Acetone, toluene, acetonitrile or tetra hydrofuran may be mixed to form a solvent, which needs to evaporate before subsequent layers of either ceramic powder or pre-ceramic polymer are deposited under the process.
The patented 3D printing process also involves the removal of excess ceramic powder after the heating process, PTO added.