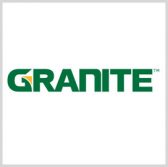 The U.S. Army Mission and Installation Contracting Command has awarded Granite Construction a $29 million contract to repair and refurbish the airfield at Fort Campbell, Kentucky.
Granite said Friday the contract covers asphalt repair and repaving for the two main runways, portland cement concrete and asphalt concrete repairs on 14 ramps and taxiways as well as airfield lighting and marking updates for the entire Campbell Army Airfield.
The company added it will begin contract services in the third quarter of 2016 and work through the 13-month performance period.
Fort Campbell is located northwest of Nashville, Tennessee, and hosts the Army's 101st Airborne Division that works to deliver air assault services for combatant commanders.