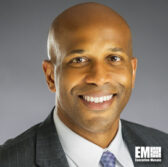 DigitalGlobe, CosmiQ Works, NVIDIA and Amazon Web Services have collaborated to develop a web-based repository of satellite imagery and training data that could support the development of machine learning and deep learning algorithms.
DigitalGlobe said Thursday the SpaceNet repository provides open access to curated, high-resolution satellite imagery that includes the company's multi-spectral satellite imagery and 200,000 curated building footprints from Brazil.
The imagery could provide information needed to create algorithms that utilize remote sensing data and work to automate mapping and image analysis, the company added.
"While commercial constellations are poised to collect imagery at global scale, we must advance our ability to analyze data to realize its full potential," said Tony Frazier, senior vice president for government solutions at DigitalGlobe.
Frazier added SpaceNet works to support an increase of artificial intelligence-driven applications that could help efforts to respond to natural disasters, global security threats and population health challenges.
"The industry is coming together to power smarter algorithms so we can see and learn things from imagery about our planet that we simply cannot know today through manual techniques," he said.
The team estimates that the public will be able to access more than 60 million labeled satellite images via SpaceNet as the group aims to develop a system similar to ImageNet, a database that contains 14 million photographs with more than 20,000 categories.