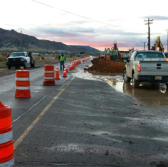 CH2M has received an eight-year contract extension from the city of Grants in New Mexico for operations management support.
CH2M said Monday the contract renewal build on the company's 28-year support for Grants in the areas of wastewater utility and public works.
Grants City Manager Laura Jaramillo said the city's evaluation committee picked CH2M after a solicitation of proposals for services.
The company will continue to perform operations and maintenance work for Grants' water production and distribution systems as well as groundskeeping and landscaping efforts for parks, cemeteries and other public areas.
CH2M's government customers in New Mexico also include the cities of Farmington, Las Campanas, Eldorado and Rio Rancho.