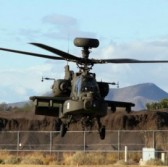 South Korea's army has received an aircrew training system from Boeing as part of the country's $1.6 billion order for 36 company-built AH-64E Apache Guardian attack helicopters and associated training and logistical support services.
Boeing said Monday the Apache Longbow Crew Trainer is equipped with flight software and flight and avionics simulation models designed to generate a training environment for crew mission readiness programs.
The company will also provide system training and maintenance services to South Korea under the contract.
Randy Nielson, U.S. Army Apache program management office lead for operator training devices, said the Longbow Crew Trainer will work to help the South Korean army train the military branch's aviators to operate the AH-64 and sustain aircraft systems.
The company is scheduled to begin delivery of the attack helicopters to South Korea later this year.