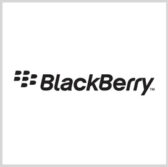 The U.S. Army has awarded BlackBerry's AtHoc networked crisis communications software a certificate of networthiness and authority to operate through April 2019 to support uninterrupted use of the software by the service branch.
BlackBerry said Wednesday the software works to relay information to soldiers and other personnel and coordinate rapid responses during emergencies such as accidents, severe weather, natural disasters and active shooter incidents.
The company added that AtHoc is one of the emergency mass notification systems on the approved products list of the Defense Information Systems Agency with both the ATO and CoN.
AtHoc supports approximately 600,000 personnel across nearly 70 Army facilities worldwide in line with Defense Department requirements that mandate emergency management coverage for all personnel within 10 minutes, BlackBerry said.
The platform also supports Marine Corps, Navy and Air Force personnel, as well as other military organizations such as the Defense Logistics Agency, U.S. Strategic Command and U.S. Central Command.