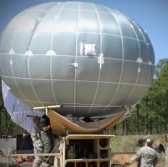 Drone Aviation has received a $125,000 subcontract from a Defense Department contractor for equipment and engineering services and work to integrate sensor suite for aerial applications on a DoD-operated fleet of tactical aerostats.
Drone Aviation said Thursday it will integrate contractor-produced sensors onto the Winch Aerostat Small Platform tactical aerostats that support U.S. Army soldier training operations and various exercises.
Jay Nussbaum, Drone Aviation chairman and CEO, said the WASP's payload agnostic architecture aims to help the military deploy sensor packages to provide flexibility and comply with expanded mission profiles and requirements.
WASP was designed for common applications such as network communications and ISR as well as to provide persistent network connectivity to units that conduct retransmission operations.
Drone Aviation received a $194,000 subcontract in March from BAE Systems for update work on the DoD's fleet of WASP tactical aerostat systems.