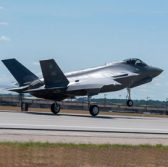 Okland Construction has won a potential $24 million firm-fixed-price contract from the U.S. Army to design and build an F-35 operations, maintenance, administration and six-position maintenance hangar facility.
The U.S. Army Corps of Engineers received 10 bids for the project through an online-based solicitation and obligated the full contract amount at the time of award from fiscal 2016 military construction funds.
Work will occur at Luke Air Force Base in Arizona through May 18, 2018.
Lockheed Martin serves as the primary F-35 contractor, while BAE Systems and Northrop Grumman act as Lockheed's principal partners in the program.
F35s are equipped with an advanced sensor package, tactical data links and engine technology with up to 43,000-pound thrust and designed to support situational awareness, target identification and precision strike efforts.
Salt Lake City, Utah-based Okland Construction offers general contracting, construction manager at risk, concrete and construction management services in the commercial, correctional, justice, educational, federal government, healthcare, industrial, infrastructure, municipal and retail sectors.