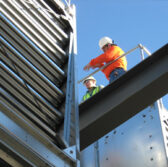 A team comprised of Health Facility Solutions and Versar has been awarded a potential five-year, $8 million contract to help the U.S. Army Corps of Engineers manage various construction projects.
The team will provide assistance to USACE field offices as well as help the military agency conduct quality assurance inspection and review contract documents, shop drawings, network analysis schedules, quality control plans and contractor claims.
Versar CEO Tony Otten said the company has been collaborating with HFS for a long time to support USACE.
The contract has three base years and two option years.
Springfield, Virginia-based Versar works with government and commercial customers across the construction, environmental and professional services industries.
San Antonio, Texas-based HFS specializes in project management, sustainability, planning and facility support services for military medical construction and renovation efforts.