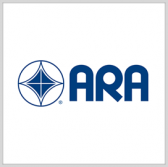 The Department of Homeland Security has awarded Applied Research Associates a two-month, $648,880 contract to develop a technology that would help increase first responders' safety awareness during roadway operations.
ARA and DHS' science and technology directorate will collaborate to produce a two-pronged approach to minimize the risk of vehicles hitting emergency personnel when they respond to road incidents, the department said Friday.
The approach seeks to reduce distraction, glare or temporary blindness caused by  emergency vehicle lighting as well as provide oncoming vehicle alerts to first responders through Bluetooth.
"Whether at a traffic stop, a vehicle blaze, or on a medical call, responders in law enforcement, the fire service, and emergency medical response need to be confident that they can focus on the task at hand without compromising their own safety," said Robert Griffin, DHS deputy undersecretary for science and technology.
"The goal here is to seamlessly integrate cutting-edge technology into existing gear and equipment to reduce the number of responder and civilian fatalities," said Angela Ervin, program manager at DHS S&T's first responder group.
DHS S&T sought proposals from rapid-technology vendors in fall 2015 to help address capability issues that domestic first responders face and ARA's contract is one of the several related contracts resulting from the solicitation.