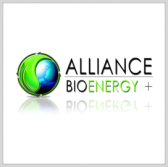 Alliance BioEnergy Plus plans to demonstrate the potential military applications of its cellulose-to-sugar conversion process for the production of aviation biofuels and biodiesels.
The company said Monday its patented CTS process works to convert biomass into sugar or phospholipids to produce biodiesel, bio-jet and other types of biofuels that could be used by the military, commercial and transportation industries.
Alliance BioEnergy added the process seeks to address challenges with the current biofuel production methods such as the need for static and refinery-sized facilities, lack of scalability to support local production, lack of flexibility in the needed feedstock sources and some logistical difficulties.
The company noted that challenges also include the U.S. Navy's current capacity to transport a limited volume of diesel and jet fuel at a time using fuel resupply ships, while air and ground forward-operating bases are in need of regular resupplies that face potential risks such as hostile territories and mechanical failure during delivery.
CTS instead works to utilize fleet-born, cellulose-based waste streams and microorganisms in self-contained tanks to grow the biomass onboard ships for conversion to biofuel, Alliance BioEnergy said.
Containerized processing plants designed to use local cellulosic, biowaste or microorganism feedstock can be airlifted to support self-sufficiency and sustainability at FOBs, the company added.