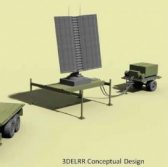 The U.S. Air Force has amended its solicitation for the Three-Dimensional Expeditionary Long-Range Radar program to include options for full-rate production following a series of protests and legal action.
The service branch said Monday the 3DELRR contract is now comprised of engineering and manufacturing development, low-rate initial production, interim contractor support and full rate production phases.
Lockheed Martin, Northrop Grumman and Raytheon are participating in a limited competition for the contract scheduled for award between January and March 2017.
Raytheon originally was awarded the program's engineering and manufacturing development phase in October 2014 and later filed a motion in Federal Claims Court to keep the EMD contract after a series of protests and an outcome prediction from the Government Accountability Office.
Federal Claims Court ruled that the Air Force should continue on its corrective actions for 3DELRR and the branch says it added a new amendment for the contract based on those revisions.
GAO issues outcome predictions in an effort to help agencies resolve protests without a written decision from the government auditing agency.
3DELRR ground-based sensor systems will work to monitor, detect and track aerial targets as well as fully replace AN/TPS-75 sensors by 2028, the service branch noted.
The radar program has also been classified as a defense exportability features pilot program, the Air Force added.
Components of the new radar will include an antenna array, signal and data processors, rotating assembly, identification friend or foe system and other types of subsystems.