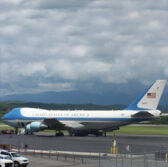 ViaSat will develop global in-flight broadband and communications services for Air Force One and other aircraft for U.S. government senior officials under a $73.2 million contract with the Defense Information Systems Agency awarded in June.
Work under the contract will support the VC-25s, C-17s, C-32s, C-37s, C-40s and special air mission aircraft through ViaSat's in-flight internet service, ViaSat said Monday.
Ken Peterman, senior vice president and general manager of ViaSat's government systems division, said the company's "global in-flight internet service ensures executive and government leaders and their teams can stay connected, informed and productive."
The company will design the service for government officials and staff to stream full-motion video for intelligence, surveillance and reconnaissance; command and control; and search and rescue missions.
ViaSat built the connectivity tool to help users maintain two-way communications through video conference calling and voice over internet protocol calls.