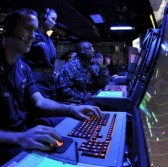 Lockheed Martin has awarded a contract to United Technologies Corp. to integrate a sensor system with the U.S. Air Force's intelligence, surveillance and reconnaissance collection and processing infrastructure.
UTC said Monday its aerospace systems unit will perform a study on the integration of the MS-177 sensor system into the Distributed Common Ground System to help provide image processing tools, command and control and battlefield information to warfighters.
DCGS uses a global communications architecture designed to link intelligence platforms and sensors and works to help airmen collect data from various sensors installed on the U-2, RQ-4 Global Hawk, MQ-1 Predator, MQ-9 Reaper and other ISR platforms.
Kevin Raftery, vice president of UTC aerospace systems, said the project is an inter-dependent effort with the Global Hawk MS-177 program to "provide DCGS operators and analysts with very similar capabilities to those employed by the U2's Senior Year Electro-Optical Reconnaissance System mission operatives."
The MS-177 sensor comprises a new wide area field of view, a high-resolution imaging system and a motion imagery modality.