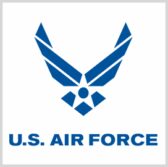 The U.S. Air Force has unveiled its first fully built HH-60G Pave Hawk helicopter under the Operational Loss Replacement program that works to bring the HH-60G fleet back to its authorized size and replace aircraft lost in previous combat operations.
The Air Force said Tuesday 21 Sikorsky-built UH-60L Black Hawks will be integrated with modifications kits and additional equipment to build HH-60Gs under the OLR program.
Brig. Gen. Eric Fick, Global Reach Programs director at the office of the assistant secretary of the Air Force for acquisition, said the HH-60G OLR is a "re-missionized" helicopter that will be used for combat rescue missions.
The U.S. Army Aviation and Missile Command awarded a contract to Science and Engineering Services to repurpose the UH-60L units and add modifications to provide a color weather radar, digital symbol generator, tactical air navigation system, radar warning receivers, automatic direction finder and a digital intercommunication system.
The Air Force added the OLR program supports its overall fleet management strategy and it will deliver OLR aircraft to Air National Guard rescue units at Joint Base Elmnedorf-Richardson, Gabreski Field and Moffett Federal Airfield in fiscal 2018 after initial tests.
HH-60G units conduct day or night personnel recovery operations, medical evacuation, disaster response, humanitarian assistance, security cooperation, NASA spaceflight support and rescue command-and-control operations.