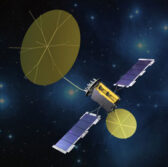 The U.S. Navy has temporarily halted the fifth Lockheed Martin-built Mobile User Objective System satellite's transfer maneuver to its test location on geosynchronous Earth orbit following discovery of an anomaly in the process.
The Navy said Friday its Program Executive Office for Space Systems has moved the satellite into an intermediate orbit from orbital transfer as the MUOS team evaluates the situation before the maneuver continues.
MUOS-5Â launched in June 2016 from Cape Canaveral Air Force Station in Florida aboard an Atlas 5 rocket and was scheduled to reach its test location above Hawaii July 3.
The satellite is built to serve as an on-orbit spare to support the operation of the MUOS constellation in case of an emergency.
The first four MUOS satellites currently in orbit work to provide ultra-high-frequency satellite communications data to the Defense Department.