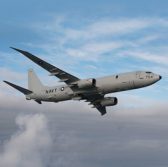 Norway could purchase five to six units of a Boeing-built maritime surveillance aircraft as the country seeks to expand its military cooperation with the U.S., Reuters reported Monday.
Andrea Shalal writes U.S. Navy Rear Adm. Dean Peters, program executive officer for anti-submarine warfare, assault and special missions programs, has asked potential P-8 Poseidon customers to place orders by summer 2017.
Peters has indicated that Norway's potential P-8 purchase could see some impact from countries interested in collaborating on the training, operation and maintenance of the planes, the report said.
Boeing has just signed a set of defense-related pacts with the U.K. government for a potential $6.2 billion foreign military sale that includes nine P-8A Poseidon planes.
Leanne Caret, president of Boeing's defense, space and security business, said the company anticipates a need to replace or modernize 100 P-8A aircraft in the coming years as the maritime surveillance model enters the last three years of its production.