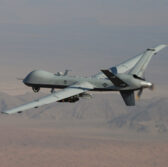 Raytheon will integrate its radar detection platform with the General Atomics-built Predator B/MQ-9 Reaper remotely piloted aircraft.
The Advanced Radar Detection System designed by Raytheon Deutschland GmbH is designed to perform land- and maritime-based electronic intelligence operations as well as detect radiofrequency emitters, General Atomics said Thursday.
"Adding an ELINT role to Predator B by integrating ARDS will help our customers to map air defense radar threats in contested airspace, from stand-off distances," said Linden Blue, CEO of the General Atomics Aeronautical Systems segment.
Raytheon will incorporate ARDS through a pod mounted on the unmanned aerial vehicle's centerline hard point.
Both companies plan to subject the drone to operational and development flight tests during the second half of 2017.