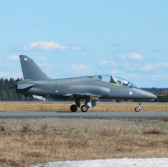 Finland-based aerospace company Patria has awarded an Esterline subsidiary a contract to update the cockpit avionics platform onboard the Finnish air force's fleet of BAE Systems-built Hawk trainer aircraft.
Esterline CMC Electronics will integrate its Cockpit 4000 glass-based avionics suite with seven Hawk Mk51 planes under the contract, Esterline said Monday.
The Cockpit 4000 avionics platform has a control panel, head-up display repeater system and multifunction displays as well as operational flight programs that work to integrate weapons systems, radios and sensors to support mission and navigation requirements.
The award comes after Esterline completed avionics update work on Finland's Hawk Mk66 aircraft under a contract awarded by Patria in 2010.
Patria provides maintenance support to Finnish air force's fleet of 67 Hawk trainer jets used by the country's F/A-18C and F/A-18D fighter jet pilots at Tikkakoski air base.